Why are Tumultuous Scales Tilting Towards Poonch- Rajouri?
The article discusses the current situation in Poonch- Rajouri in Kashmir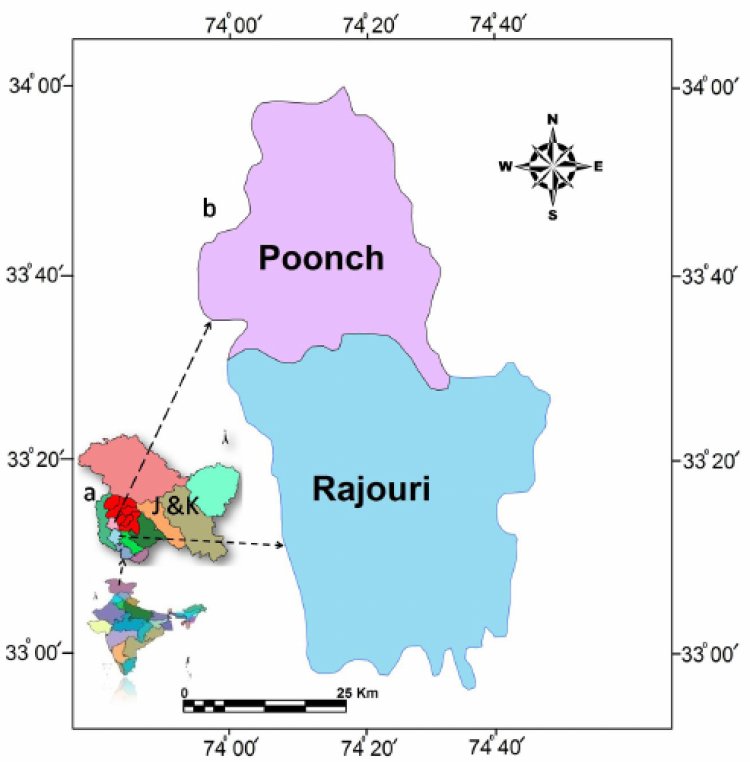 Analysis
By Dvij
Pakistani efforts to unnerve India have been repeatedly thwarted, but as the old adage goes "You cannot catch a hare with a tabret." Dissent in Kashmir is at an all time low, development has found its way to the majestic valley and Pakistani attempts to recruit new jihadis and logistically support them has become a distant dream. India's diplomatic prowess has pushed Pakistan to a corner save a few dragons and like a cornered fighter it is pushing hard to stay relevant in Jammu and Kashmir after the abrogation of Article 370, or perhaps it has finally lost sight of light at the end of the tunnel. The recent ambush on the Army truck on April 20, 2023, at Bhimber Gali leaving Five soldiers dead, shows how skittish and frustrated they have become.
Terrorist strikes post Ceasefire: Feb 25, 2021. Since Feb 25, 2021, a number of terror attacks have been carried out by Pakistan in Rajouri-Poonch Belt. In Oct 2021 ambush on an Army truck at Bhatta Dhurian area resulted in the killing of Five soldiers, which in turn led to the search of the area and further ambushing of another Four soldiers and failing to trace any perpetrator. In an attack on army camp at Rajouri on Aug 11, 2022, Five soldiers were killed while neutralizing Two terrorists. On Dec 16, 2022, Two civilians working in Army CSD were killed by terrorists near the Alpha TCP at Rajouri. The New Year Jan 1, 2023 began with the killing of Seven innocent civilians by unidentified terrorists in village Dhangri of Rajouri. On April 20, 2023 army truck carrying items for Iftaar for the locals was ambushed resulted in killing of Five soldiers at Bhatta Dhurrian and again on the same patterns of Oct 2021 led to prolonged searches of the area resulting in the killing of Five more soldiers on May 5, 2023, at Kandi area of Rajouri where one terrorist was neutralized on May 6, 2023. No doubt the situation looks dire. The glaring aspect of all this however is that these attacks have not happened in Kashmir valley, but rather in Poonch –Rajouri belt which had been relatively peaceful since the last two decades.
Why Poonch-Rajouri? After the abrogation of Article 370, Pakistan and more so its masters, the Pakistan Army is out of business. Kashmir is invariably a chapter of history for them and the kind reminder was given by EAM Sh S. Jaishankar in his words 'Wake up and smell the coffee beans' during the SCO summit at Goa. Kashmir is on the path of development with Vande Bharat reaching Baramulla by the end of this year and the Four-lane highway from Jammu to Srinagar is about to be completed. Rapid development, the boom in tourism, and strict action against the non-state actors in the valley have led to frustration and anxiety in the Pakistani camps. The ground which ISI had developed over 70 years in Kashmir has vanished and their supporters are either languishing in jail or have given up the path of violence and have rejoined the mainstream. Kashmir valley is increasingly becoming out of reach for Pakistan with their entire base of sympathizers in shambles and furthermore the geographical distance from LOC which prevents them from providing weapons, ammunition, money and all other logistic support to their sympathizers. The nefarious eyes have however homed onto a new target. Poonch-Rajouri being closer to LOC, it is very easy for Pakistan to supply weapons, ammunition, money, and drugs using drones. The drones carry out a large number of trips and carry a small cache in each trip across the LOC at number of different places. Our Nation is yet to develop a very effective anti-drone system and Pakistan is effectively exploiting this.
Dynamic interplay of factors that need to be addressed in the Poonch – Rajouri belt.
Vibrant Village Programme. Recently Govt of India has started Vibrant Village Programme from Kibithoo, Arunachal Pradesh and allocated Rs 4800/- crore for the said project to develop border villages with China in terms of comprehensive development of villages, to improve the quality of life of people living there, better connectivity in terms of road network and communication. Recently it was announced to establish 1884 towers of BSNL & AIRTEL in 3402 villages in Arunachal Pradesh. Why no Vibrant Village Programme for Poonch – Rajouri Belt? What is the condition of roads and mobile networks in the border villages of Poonch – Rajouri? Our population is continuously migrating from the border villages of this belt towards the Jammu region. What are we doing to stop them from migrating? Perhaps the Government must mull over launching the Vibrant Village programme in this Poonch Rajouri belt.
Pahari Reservation. The exploitation of ethnic divides to ferment dissent has been an old play by Pakistan. Recently Paharis has been included in the list of Schedule Tribes has led to protests by the Gujjar-Bakkarwal community. They vehemently oppose the Pahari reservation since they feel that this will deprive them of the reservation benefits as Paharis are more literate and economically better off. This has been effectively utilized by Pakistan, who has been a master at discerning and exploiting the minutest fault lines. This has given a reason to divisive elements in the region to spread hate and there is a sporadic increase in the OGW activities in the region can be clearly attributed to cross-border funding.
Road & Rail Network. Recently the trails for running train on the world's highest rail bridge on the Chenab river have been successful and it was announced by Railways minister Ashwani Vaishnaw that, Vande Bharat Express will ply on the Baramulla-Jammu railway line by the end of this year. Conversely, for decades our approach towards solving the Kashmir issue has led to relative overlooking of the Poonch- Rajouri region. The final survey report for the project to connect the Broad-Gauge line to Poonch via Rajouri was submitted in 2008 and again in 2018, but the project has hit the stonewall both times. If not Vande Bharat but at least a normal rail network should be established to Poonch region. The time taken to reach Poonch from Jammu via road is seven to eight hours, whereas, the time taken to reach Srinagar from Jammu is approximately five to six hours. Three lane highway project on the Jammu Poonch highway is in progress which is beyond completion. Why not Four Lane highway instead of three-lane highway? Poonch is strategically very important to us and the credence of the highway cannot be downplayed as it passes very close to the LOC and is the most important artery connecting the Jammu Poonch region.
Hot Bed of Spies. Most of the people living in the border areas of the Poonch Rajouri belt have relatives across the LOC. The inter-personal relations of people living across LOC have been exploited by Pakistan over the years for terror activities. Areas of Surankot, Bhatta Dhurrian, Thana Mandi used to be the hotbed of spies working for ISI and they exist to this day even if they are a pale shadow of earlier times. Why were the Indians not able to equally exploit or counter these inter personal relations to our advantage? Even we did try, most turned out to be double agents, more loyal to their ISI masters. Was it just Religion or radicalization or perhaps a good mix of stick and carrot involving money and fear? To defeat and think like the enemy perhaps we too need to be the enemy.
With Pakistan virtually wasting the SCO summit, the next shot for them is hurting India's G-20 streamroller which has successfully showcased not only Indian diplomatic prowess but also its vibrance. Outcries to dislocate the meeting in Srinagar have failed yet again at international forums; a clandestine nonstate action by the 'epicenter of terrorism' cannot be ruled out.
Disclaimer: This paper is the author's individual scholastic contribution and does not necessarily reflect the organization's viewpoint.
Dvij is the pseudonym of the author. He is a terrorism researcher in Kashmir, working at the grassroots. His identity can not be revealed for security reasons.