Is Pakistan Arming the Kashmir-Centric Terrorist Groups with Turkish Drones?
Lately, Kashmir has witnessed several Drone sorties from Pakistan dropping weapons and cash. Chinese Kamikaze and Turkish Bayraktar may be the next lethal weapons in the hands of Lashkar and Jaish.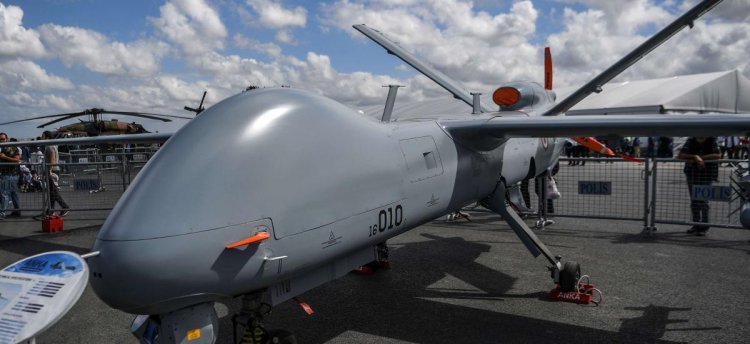 Security Forecast
By Abhinav Pandya
After the abrogation of article 370, it appears that the so-called "Kashmir issue" is tottering to its natural death. With every passing day, the false narratives, lies, and deceitful structures of jihadist violence are slowly and smoothly inching towards a dead end. Interestingly, in the geopolitical domain, Pakistan seems to be losing its status of India's rival-state, a phenomenon increasingly facilitated by Islamabad's seamless transformation into a Chinese colony and its never-ending domestic political and economic crises. With China's aggression in Ladakh and the US banking on India as a major bulwark against expansionist China, Pakistan's eclipse from India's security calculus as its main rival appears final.
However, is it so? Can the Pak army afford to let Kashmir slide out of its control? Once the perception of "Kashmir not being an issue anymore" gets ingrained in the popular consciousness, the Pak army will face an existential threat. It won't be easy to justify the mammoth budgets it has been accumulating for decades in the name of Kashmir. But then, how to pump the much-needed life-blood into fast-dying militancy in Kashmir?
One more Pulwama is a sure-shot guarantee to something bigger than Balakot, with Pakistan running the risk of losing PoJK for ever, to Delhi iron-willed right-wing government. Infiltration has become immensely difficult with robust counter-infiltration grid and barbed wire fencing. The local militant groups in Kashmir are facing a major existential crisis. India's premier counter-terrorism agency NIA's harsh crackdown on terror financing modules and Jamaat-i-Islami, and significant governance changes post-370 have landed the separatist ecosystem and the terror groups in dire financial straits. All the top commanders, including celebrity militants like Zakir Musa and Riaz Naikoo are dead. Most recently, Naikoo's successor Dr. Saifullah was neutralized by the security forces in another successful encounter.
However, it is not yet time for complacency and celebrating victory. Pak intelligence establishment has always marveled at coming out with innovative ways to keep the pot boiling in Kashmir. In this piece, the focus is on one of the many such innovations Pakistan, and its proxy jihadist set-up is experimenting within Kashmir, post 370, i.e., the use of drones.
As early as 2016, the state CID had sent generic reports about Pakistan planning to use drones in dropping weapons and cash. Over the last year, this nightmare has turned into a reality, and there have been multiple cases of using drones in dropping weapons and fake currency. Between Sept. 9 and Sept. 16 2019, at least eight drone sorties, sent by Pak-based Khalistan Zindabad Force (KZF), carrying 80 kilograms of arms and ammunition, dropped them in Indian Punjab. Later, investigations revealed that the ISI orchestrated the operation using KZF from Lahore and Germany, and the entire consignment was to be delivered in Jammu and Kashmir. Further, prima facie investigations found that China made commercial drones with a payload of 10 kilograms may have been launched from two kilometers inside Pakistan's territory. Reportedly, they traveled the distance of five kilometers at an altitude of 2000 feet and dropped the weapons after descending to 1200 feet. In Sept. 2020, Pakistan dropped weapons in the Rajauri district of J&K. The local police arrested three LeT terrorists who had picked up the consignment near the LoC. In another incident (June, 2020), a drone was shot down by the BSF in Rasana, 15 kilometers inside the Indian territory (Kathua district,J&K).
Barring a few journalistic pieces, not much has been reported on the use of drone technology in the Kashmir terror front. How serious the Indian security establishment is about this threat may be subject-matter of speculation for counterterrorism analysts. However, critical analysis of the information collected from various quarters, including most, from the open sources presents a disturbing scenario.
This author's interlocutors in Kashmir inform that ISI has supplied sophisticated drones to Kashmir-centric terror groups. The drones sent in 2019 and early 2020 made a noise loud enough to be caught, but the more recent ones have advanced technology. The noise levels are significantly reduced, with only the mild fanning sound audible. While dropping, they make beep sounds twice. The new drones are reportedly having infrared cameras and the ability to adapt the colour of the background, which means they will appear green, blue, and brown depending on the environment. The speed is too fast. The dropping happens in about five seconds. In an instant move, they return at the fastest speeds, as told by a police officer posted in the Jammu region, on the condition of anonymity.
There is a strong likelihood of terrorists using drones to target military and civilian installations, drop bombs at identified locations, the worst fear of SFs (security forces). Besides, the drones have advanced cameras which can record their kills. Warring parties release footages of such kills to gain an edge in the propaganda warfare. In the on-going Armenian-Azerbaijan war, Azeri forces have released much footage of their drone kills. In Kashmir conflict, the propaganda war constitutes the strongest part of Pakistan's arsenal. It has already done immense damage to Delhi's goodwill. That said, if the militant groups release the chest-thumping footages of their drone kills, it can be powerful weapon to drub the Indian state in the propaganda war resulting in sufficient morale-boosting for the demoralised militant cadre and leadership.
Interestingly, there is another dimension to this drone problem that makes it even more alarming i.e. the drone-manufacturing capabilities of China and Turkey, Pakistan's strongest allies. Further, in the recent past, both China and Pakistan have become staunchly anti-India. President Erdogan's hateful rhetoric against India after the abrogation of article 370 and Turkey's unholy nexus with various Islamist groups in India has alarmed the Indian government. China's aggression in Ladakh has almost ensured that the two Himalayan neighbours are only a step short of war. Hence, both China and Turkey are expected to render any help to Pakistan that could destabilise India.
China's indigenous drone program ranks high alongside Israel, Turkey, and the US. Its Kamikaze drones deployed in the eastern front can prove to be a nemesis for India's Soviet-made T-72 tanks, which China perceives as a weak link in India's second line of defense. China's Kamikaze UAVs are swarm suicide drones with each unit only four feet long and 20 pounds in weight. They can be airborne for two hours and can hit the target at a speed of 93 miles per hour. Such drone swarms can confuse and effectively neutralize the air defense systems by hitting the targets from multiple locations.
According to the Turkish sources, MAM-L drones, developed by Roketsan, a Turkish defense firm, are highly sophisticated and lethal machines with an impressive record of destroying 100 T-72 tanks in their entire operational history. Turkey's MAM-L and Bayraktar TB2 inflicted severe damage to Russian tanks, armoured vehicles, infantry and artillery units, and air defense systems in Syrian war. In Nagorno-Karabakh, Turkish MAM-L and Bayraktar TB2 drones have effectively crushed Armenian tanks and weak air-defense systems.
In March 2020, Turkish ANKA-S and Bayraktar TB-2 drones proved to be 'game-changers' in Idlib, enabling the Syrian Opposition forces to recapture several strategic locations. Turkish drones attacked deep into the Damascas-controlled territory, targeting many military airports near Aleppo and Hama. Manufactured by Baykar Makina for Turkey's armed forces, TB2s are Medium altitude Long-range Tactical Unmanned Aerial Vehicle (UAV). They can perform short-range reconnaissance and surveillance missions and carry a payload of more than 55 kilograms. It has a range of 150 kilometers and can fly at the height of 22,500 feet. With a maximum speed of 70 kt and endurance of 20 hours, it can prove lethal on LoC. Further, given its payload capacity, one can only imagine what else they can drop beside small weapons and bombs. In a telephonic interview with Lashkar's former finance coordinator, currently based in Baramulla (North Kashmir), I learned that PoK-based launch-pad commanders had acquired drones with the capability of penetrating 80 to 90 kilometers inside the Indian territory. However, no concrete evidence has come to light to corroborate this claim.
The MAM (Mini Akıllı Mühimmat) is a laser-guided smart munitions system that can be fitted with drones and light combat aircraft. It can engage moving as well as stationary targets with a near accurate degree of precision. If such systems end up with Kashmir-centric terror outfits, a highly likely scenario, it can be a major headache for Indian SFs in Kashmir. Such drones can be fired from 10-15 kilometers to destroy critical civilian and military installations. Hence, there is no need for high risk and dangerous fidayeen missions.
Besides, given the fact that India is a superior military power in a conventional war and any use of tactical nukes will be met with disproportionate retaliation as per India's nuclear doctrine, Pakistan knows it well that only sophisticated drones can be its saving grace in short and swift war, especially in contested airspaces like LoC. Drone swarms can give a robust blow to India's forward deployments, infantry movements, vehicle columns, artillery positions, air defenses, and logistical supplies. TB2, ANKA-S, and Burraq trio provide Pakistan with a highly advanced integrated system of Intelligence reconnaissance, surveillance on the LoC.
To conclude, it is pertinent to quote CSSPR's (Center for Security, Strategy and Policy Research, Lahore University) policy brief, which categorically recommended, "Pakistan needs to re-imagine the LOC when it will be controlled and surveilled by swarms of explosive drones. Our soldiers should be operating these drones instead of dying from bullets coming from across the LOC."
Abhinav is the Founder of Usanas Foundation and the author of "Radicalization in India: An Exploration."
Cover Image- Turkish drone, Courtesy- Ahval News
Image in the text: Pakistani spy drone shot down by the Border Security Force (BSF) in Kathua (J&K).
Photo Courtesy: DNA
Disclaimer: This paper is the author's individual scholastic contribution and does not necessarily reflect the organisation's viewpoint.